MARQUISE AUCTION 2020
Scottsdale Arabian Horse Show | International Arena | Westworld of Scottsdale, 16601 N. Pima Road, Scottsdale, Arizona 85260
21st of February 2020
We are delighted to announce that Arabian Insider - for the 3rd year-in-a-row - is the Official Media Partner of the 4th Annual Marquise Auction that is taking place during the Scottsdale Arabian Horse Show on February 21st, 2020.
By showcasing the finest Arabian bloodstock in a live auction setting, the Marquise Auction's goal is to create energy and enthusiasm for the Arabian horse in order to broaden its worldwide base.
Arabian Insider had the great pleasure to produce the videos of the amazing horses on sale. Please enjoy all the lots in the following section!
LOTS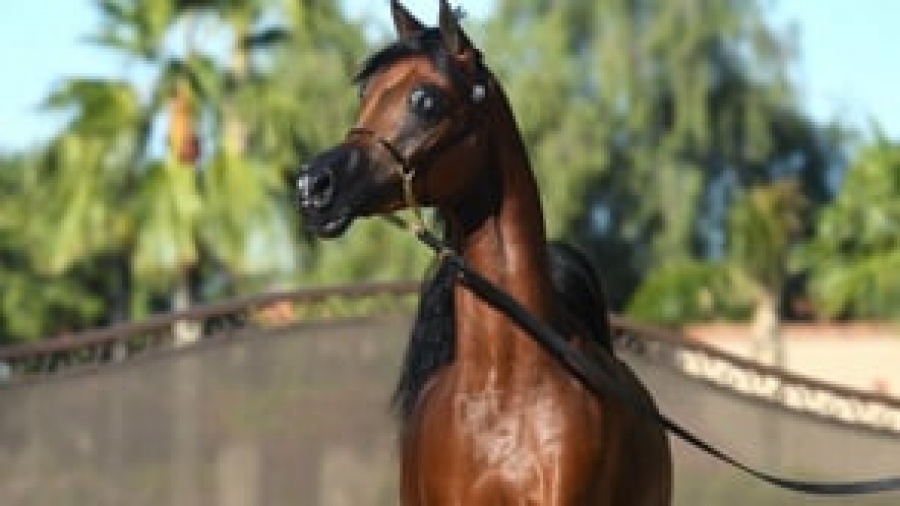 ARIA RAKEEM
2018 Bay Stallion
(FA El Rasheem x MD Hibat Allah)
Bringing the best of the breed together in one complete package of outstanding genetic potential, ARIA RAKEEM promises to be both a show horse and sire of significance on the global stage. Sired by the incomparable FA El Rasheem, Rakeem is heir to an exponentially expanding dynasty of global supremacy that continues to dominate elite competitions worldwide and being awarded high scores for their exceptional breed type, superb balance and ultra-exotic heads while raising the breed standards. El Rasheem's ultra-exotic heritage, an unequivocal gift of both his sire Fal El Shawan and and maternal grandsire Versace, combines flawlessly with the magnificent design and scope of Rakeem's dam, U.S. National Champion MD Hibat Allah. Universally admired as one of the best and most alluring daughters of the legendary DA Valentino, Hibat Allah has inherited her sire's perfectly balanced build, solid substantial structure, and his trademark impressively long and well-shaped neck, attributes which blend magnificently with the beauty and elegance of El Rasheem in the phenotype of ARIA RAKEEM. The genetic prepotency of Aria Rakeem is enhanced even further by Hibat Allah's international Aristocrat dam, Ecuadorean National Champion Anastasiaa, who descends fromg generations of champion females and champion-producing matrons, making Rakeem an irrefutably serious stallion prospect.
AHA Sweepstakes Nominated
Bred by: The Aria Partners LLC
Consigned by: The Aria Partners LLC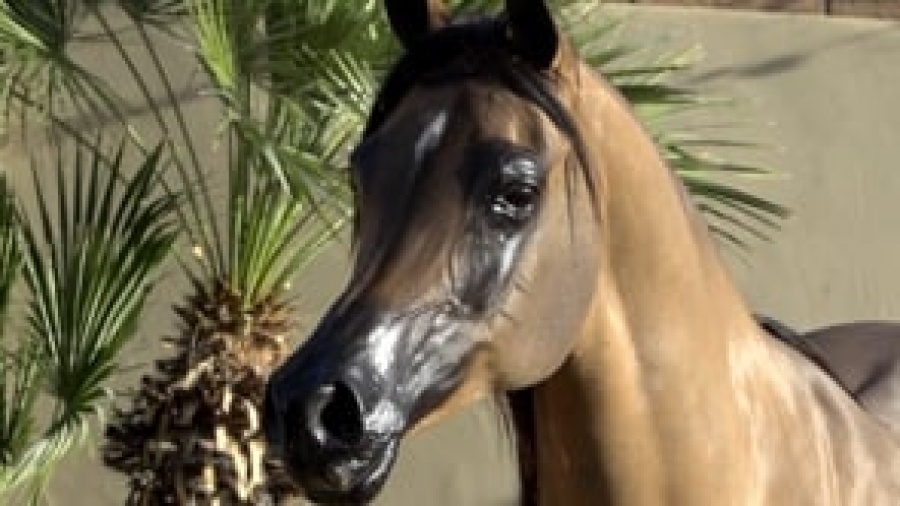 BAANDORA
2009 Bay Mare
(Marwan Al Shaqab x HB Bessolea)
The beautiful broodmatron BAANDORA represents the exclusive opportunity to obtain one of just four full sisters produced from the unparalleled cross between Marwan Al Shaqab and HB Bessolea. Herself a Scottsdale and Regional winner, Baandora is a full sister to 3 of the most accomplished mares in the modern Arabian breed: Strohen International Gold Champion and Baden-Baden Silver Champion *Bint Bessolea (2007), Scottsdale International Gold Champion, Arabian Breeders World Cup Silver Supreme Champion and U.S. National Reserve Champion *Bessolina El Marwan (2010), and the jewel in the crown, two-time Brazilian National Champion, U.S. National Champion, Arabian Breeders World Cup Gold Supreme Champion, Scottsdale Reserve Champion, Menton Silver Champion and the reigning World Gold Champion *Baviera HVP (2012). This unprecedented record of success by full siblings is further substantiated by Baandora's 3 full brothers: Qatari National Gold Champion *Dirar Al Shaqab (2009), U.S. National and Scottsdale Champion *Baahir El Marwan (2008), and the 'Show horse of the Century' *Baanderos (2005). Baandora has already extended this incomparable legacy with champion winning produce of her own, - National and Regional Reserve Champion Baakari (SMA Magic One). Don't miss this extraordinary opportunity to chart your future with the proven legacy of HB Bessolea and Marwan Al Shaqab.
Bred by: Taylor Arabians
Consigned by: Orrion Farms LLC BH BEIJINGS VELVET
2011 Bay Mare
(Beijing BHF x BH Versaces Velvet)
Sells in foal to OR with a breeding to EKS Alihandro
Her stellar show record sets the stage for a magnificent beginning – U.S. National Champion Futurity Filly, U.S. National Reserve Champion Senior Mare, Scottsdale International Gold Champion Senior Mare, and Arabian Breeders Final Silver Champion – and an inspiring future which is unfolding with profound impact for her. Through her sire *Beijing BHF, she is blessed with invaluable attributes and genetic prepotency of the three most important Battle Hill Farm pillars – *Bey Serenade SF, *Tevkah and *Falcon BHF – as well as the incomparable beauty and balance of the ever-iconic *Felisha BHF. Through her dam, she inherits her unmistakable *Versace allure, complete with size, scope and a superlative silhouette, exuberant tail carriage, a superbly sculpted face, those trademark eyes, and an uncompromising level of overall quality, refinement and elegance. Further genetic enhancements on the distaff side of her pedigree, courtesy of Living Legend *Magnum Psyche, the powerfully athletic *Ariston and the extravagant *Ivanhoe Tsatan empower the breeding potential of Beijings Velvet to an impressively high level of confidence and predictability. Not surprisingly, BEIJINGS VELVET is the dam of the most successful yearling filly worldwide in 2019, ARIA VENETIAN LACE (by EKS Alihandro), who dominated the competition in North America with an undefeated record as Scottsdale Junior Champion, World Cup Gold Supreme Champion and Highest Scoring Female, and unanimous U.S. National Champion Yearling Filly. This superlative combination of genetics has been repeated for 2020, with BEIJINGS VELVET selling with a guaranteed cover to twice World Champion EKS ALIHANDRO. Bet on the proven success of BH BEIJINGS VELVET and reward yourself for years to come.
Bred by: Robert A or Judith A Burton IV
Consigned by: Khidam El Shawan Partners LLC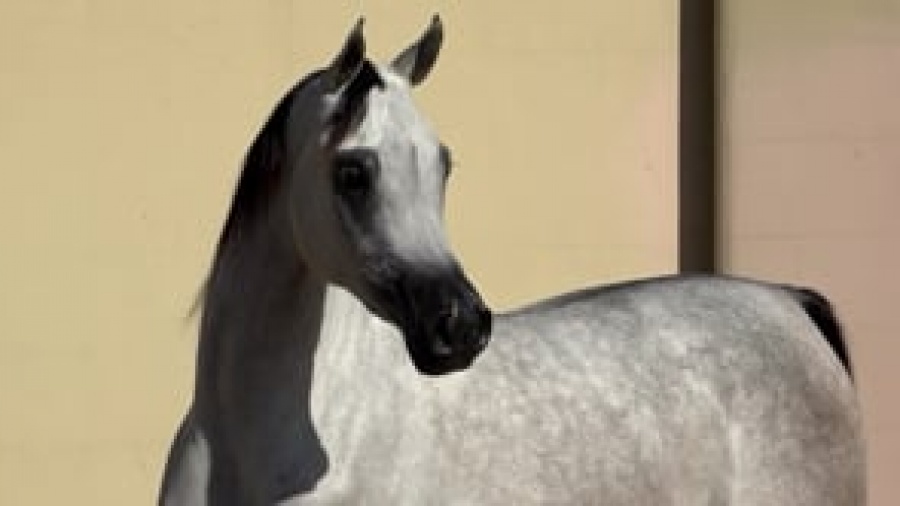 AJS EMARA MEIA LUA
2018 Grey Mare
(S.M.A. Magic One x Ellara El Ludjin)
An enchanting young filly who unites the genius of many of the world's most accomplished breeding programs, AJS EMARA MEIA LUA embodies the best of her meticulously crafted aristocratic heritage. Maternally, EMARA is the modern day product of the late Lenita Perroy's Haras Meia Lua's program focusing around the infinite excellence of a cornerstone breeding stallion, the iconic Ali Jamaal. Cleverly combined with the prolific genetics of El Shaklan and Bey Shah in her foundation stock, Lenita nurtured a dynasty of international champions and breeding pillars that forever altered the destiny of the breed, evident early on in Emara's paternal grandsire Ludjin El Jamaal. Ever impressed by the maternal lines of Poland, Lenita introduced one of her most important dam families in the new millennium, that of Michalow's legendary matron Emigracja, through her European Champion daughter Emigrantka and her phenomenally successful daughter, El Dorada, a multi-international champion who is EMARA's direct tail-female ancestor. El Dorada further strengthens the influence of Estopa with additional infusions present in the pedigree of Emara's sire, SMA Magic One. A renowned son of the Midwest Station I-bred PSYTADEL, Magic One is further blessed with a double dose of one of Europe's most admired Aristocrats, Saskia RJ, making EMARA a breeder's dream come true.
Bred by: Lenita Perroy
Consigned by: Al Jood Stud - Qatar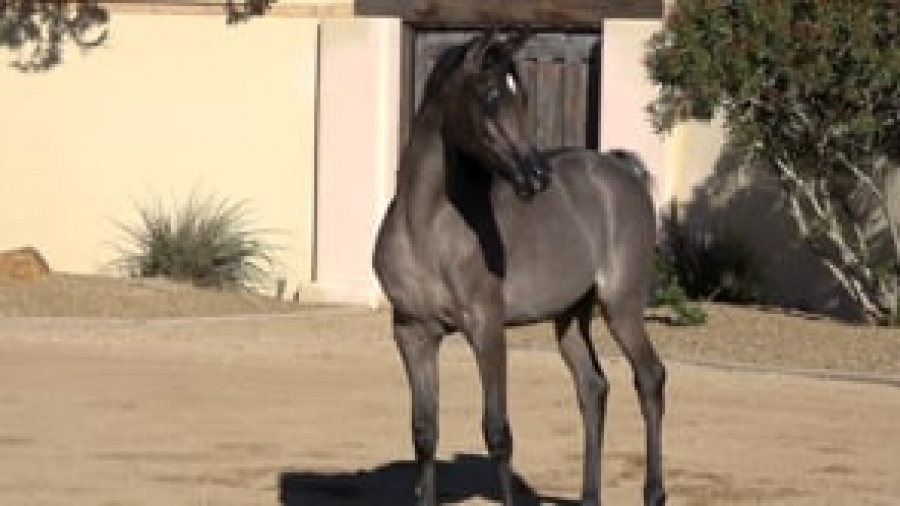 OFW PRIMAVERRA
2019 Grey Filly
(Excalibur EA x Vesperra)
An evolving dynasty of world-class champions – blending the excellence of Excalibur EA with the virtue of Vesperra – is the promise that is present in the captivating OFW PRIMAVERRA. Her Spanish-bred sire, the global sensation EXCALIBUR EA, has proven himself an inimitable show horse, capturing Gold Champion honours as Dubai International, Menton, European, All Nations Cup, US National and World Champion. As the unsurpassed heir to the universally renowned succession of champion sires descending through Padrons Psyche/Magnum Psyche/WH Justice/Shanghai EA, Excalibur is the 'go-to' source for world-class quality, conformation and charisma. The prepotency of Excalibur is exceptionally apparent in the nick with the SF Veraz daughter Vesperra, an Aristocrat Dam who brilliantly blends the unique characteristics of Gazal Al Shaqab, Versace, Kajora, El Shaklan, with the exquisite Straight Egyptian elegance of Thee Desperado, Anaza El Farid, Ruminaja Ali. Vesperra's production record with Excalibur is already credited with two aspiring breed icons: U.S. National and Scottsdale Champions EXXALT and EXXALTRESS. Both full siblings exude impeccable quality and class, with well balanced, harmoniously designed silhouettes, sensational size, scope and substance, and a commanding aristocratic presence. Replicated with the same enduring appeal, OFW PRIMAVERRA has her entire future of infinite promise yet ahead of her; ensure you are there for every single extraordinary moment.
Bred by: Orrion Farms LLC
Consigned by: Orrion Farms LLC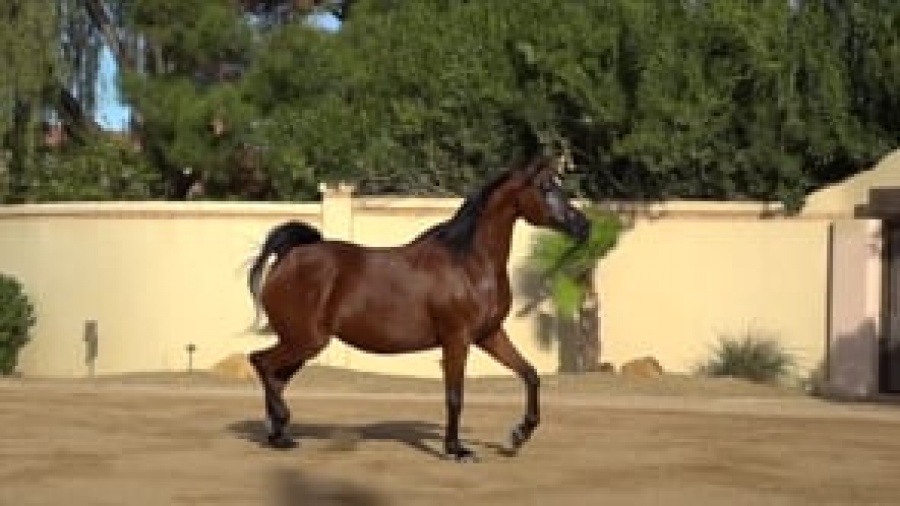 RA MARWANS ELYGANCE
2009 Bay Mare
(Marwan Al Shaqab x RA Cool Elygance)
In Foal to FA El Rasheem, Due April 20, 2020
A proven producer of world-class quality foals, the Belgian-bred RA MARWANS ELYGANCE exemplifies the best of her internationally admired heritage, passing her most exemplary qualities onto her progeny with reliable consistency. As her name suggests, ELYGANCE is a daughter of the unrivalled 'leading sire of the new millennium' MARWAN AL SHAQAB, putting her in the company of dozens of the best producing mares in the breed. While the sons of MARWAN have shone in the show ring spotlight for the past several years with unprecedented success, and populated the leading breeding programs the world over with generations of exceptional descendants, the MARWAN daughters have been progressively, and unassumingly, contributing their own intrinsic value to scores of extraordinary produce. Imagine the modern breed without World Champions EXCALIBUR EA and FADI AL SHAQAB, or U.S. National Champion POLIDORO FC, all maternal grandget of MARWAN AL SHAQAB. The ability of MARWAN to nick with so many bloodlines from all sources is truly remarkable, evidenced yet again in the respected foundation American-Russian-Polish blend heritage of ELYGANCE's dam, European Aristocrat RA COOL ELYGANCE US. MARWANS ELYGANCE has proven to be as predictably prolific as her dam, with multiple progeny already exported overseas and an increasing number of international quality get to her credit, including the young Regional winner TAJ RAHEEM (FA El Rasheem), as well as World Cup Bronze Champion and World Top Ten MAYSAH ALJASSIMYA (Monther Al Nasser). Selling in foal to the reigning Leading Sire at the 2019 World Championships, FA EL RASHEEM, RA MARWANS ELYGANCE is a sure bet for infinite future success.
Bred by: James Swaenepoel
Consigned by: Black Rock Ranch LLC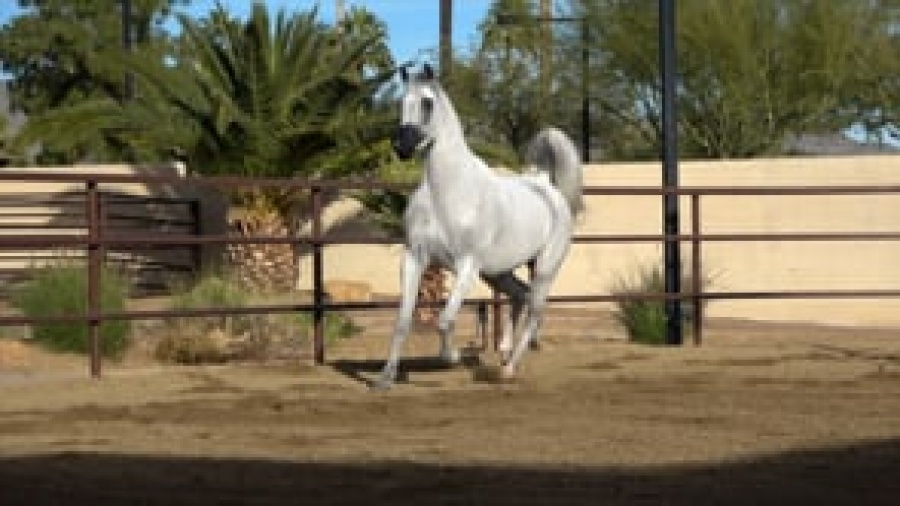 SHAYALA
2013 Grey Purebred Arabian Mare
(Shael Dream Desert x Cassiopeia BPA)
An attractive and superbly bred young daughter of SHAEL DREAM DESERT, SHAYALA promises to be an asset to every aspiring breeding program intent on creating world-class Arabians. Maternally, SHAYALA traces tail-female to the globally renowned breeding program of Wayne Newton, directly to Straight Spanish import OROMANA in seven generations, while brilliantly combining all of the sires which made the Newton-bred Arabians highly desirable show and breeding horses for decades, including multi-U.S. National Champion ARAMUS, Straight Spanish GG SAMIR, influential sire BLUESPRUCETANZEER, U.S. National Champion ARN-ETT PERLANE and the legendary PADRONS PSYCHE. Through WN SAMANA, SHAYALA shares the same heritage as several international female superstars, including multi-international WN FAWN OBSESSION, and World Champion mother and daughter pair MINWAH and MONA LISA AL JASSIMYA. Named in honour of her invaluable sire SHAEL, SHAYALA shares not only a namesake but a paternal heritage with some of the most accomplished, prolific and universally admired mares in the breed, including World Cup Supreme Gold Junior Champion and AKEAHF, Wels & Strohen Gold Senior Champion FELICIA RLC, Argentine National Supreme Champion VAN KATALINA, and the unparalleled FT SHAELLA – one of the most dominant and beloved show mares in the modern breed as twice All Nations Cup, Dubai, Abu Dhabi, Menton, PSAIAHF & World Gold Champion. Most importantly, the daughters of SHAEL have proven to be incomparable broodmatrons, consistently producing many of the most highly decorated modern show winners around the world, as well as many of the essential breeding horses treasured by the leading programs in Europe, North & South America, and the Arabian homeland.
Bred by: MA SHATILA
Consigned by: Black Rock Ranch LLC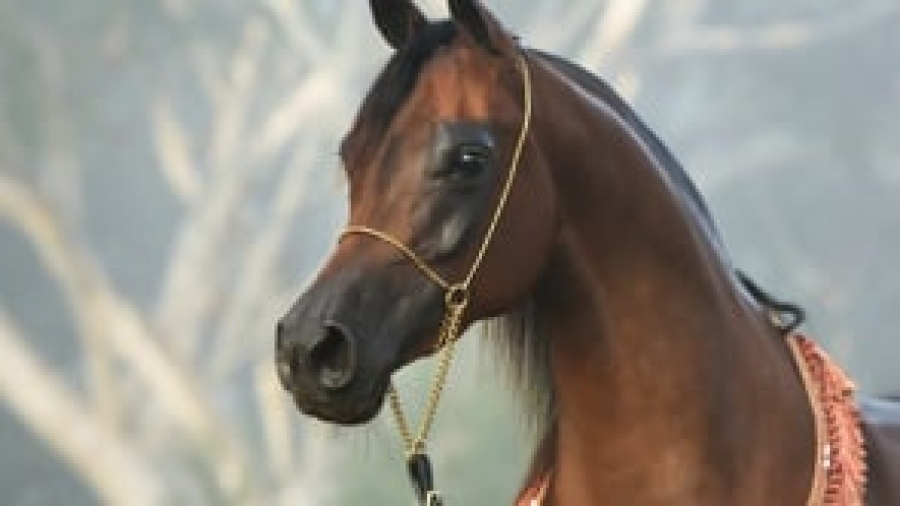 ROMANCE MI
2009 Bay Mare
(Magnum Forty Four x Rimaraa)
Establishing herself as the incontrovertible Gold Standard with inspiring elegance, intense focus and captivating charisma over the course of the past decade, ROMANCE MI made Arabian breed history as the very first Arabian mare ever to be awarded the coveted title of Australian National Gold Champion on three separate occasions: as Yearling Filly (2011), Junior Filly (2012) and Senior Mare (2018). With show ring credentials further enhanced by a first place finish in the always competitive senior mare class at the 2019 Scottsdale Show, 2018 East Coast Senior Mare Championship honors earned in Sydney, and Gold Champion Senior Mare and Highest Scoring Horse of the Show accolades enthusiastically awarded at the 2017 Australasian Breeders Cup, ROMANCE has rightfully earned her place of honor amongst the most universally admired and prodigiously accomplished show mares in the Arabian breed worldwide. Genotypically, ROMANCE masterfully blends the influence of the two most monumentally important sires of the new millennium: MAGNUM PSYCHE and MARWAN AL SHAQAB. From both, she has inherited all of the qualities essential in the ideal Arabian mare: distinctive beauty and maternal elegance, exceptional quality and refinement, superlative balance and harmony of proportion, broody capacity and impressive three-dimensional substance, and an undeniable feminine charm and allure. Her powerhouse trot, which has rightfully earned her perfect 20's on numerous occasions, as well as her enchantingly large luminous eyes, further add to the undeniable breeding appeal of ROMANCE, making her the ideal addition to the most aspiring global breeding programs. Proving the old adage true time and time again, 'one can never have enough ROMANCE…'
Bred by: Mulawa Arabian Stud
Consigned by: Mulawa Arabian Stud PROMISE ME J
2016 Bay Mare
(QR Marc x Broken Promises PGA)
Descending from generations of Arabian performance and Western Pleasure royalty, the Jerland-bred PROMISE ME J has already delivered on her prophetic namesake, by honoring her unparalleled heritage of athletic excellence with a stellar performance in Tulsa. As the reigning U.S. Arabian Western Pleasure Futurity National Champion, PROMISE ME J is the modern embodiment of a succession of national champion winning Western Pleasure icons, strongly influenced by her maternal grandsire KHADRAJ NA+++/, the Leading Living Sire of Western Pleasure champions in the breed. PROMISE ME's dam is U.S. and Canadian National Reserve Champion BROKEN PROMISES PGA, a daughter of the Sheila Varian-bred Aristocrat PROMISE V, by legendary athlete HUCKLEBERRY BEY, whose enduring influence as a sire pervades every division and discipline in which Arabians compete and excel the world over. One generation further removed is the precious PAVANE V, a full sister to Sheila's invaluable MOSKA, both sired by the era defining KHEMOSABI++++//, the only horse ever to be named U.S. National Champion Stallion and Western Pleasure. At the tail-female source of PROMISE ME's pedigree are the two icons, U.S. National Champion BAY-ABI++ and Polish import BACHANTKA, that not only established the Varian Arabians program as one of profound importance, but redefined the standard of the authentic Arabian athlete for the modern breed, to which every successful breeding program dedicated to creating horses of both beauty and utility owes an inestimable debt. The added refinement, elegance and exotic type of World Champion QR MARC, combining the superlative qualities of global Sires of Significance MARWAN AL SHAQAB and ALI JAMAAL, makes PROMISE ME the quintessential modern athlete, prepared to excel at the highest level with brilliance and reliability for years to come
Bred by: Jerland Farms
Consigned by: Laura Koch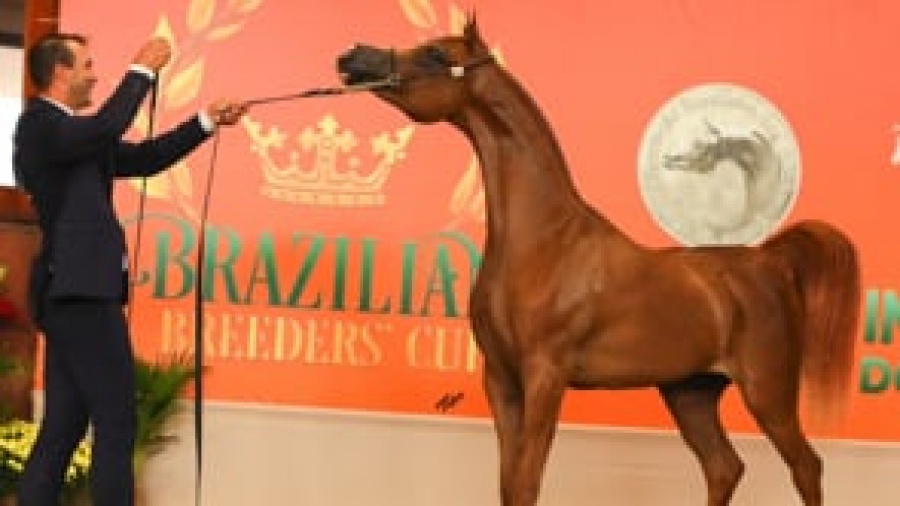 LADY DOMINICA JSZ
2018 Chestnut Mare
(Dominic M x Bretta UB)
A fairy tale beauty – an iridescent golden chestnut with a perfect blaze, enhanced by a flaxen forelock and mane with a honey-coloured tail – the ethereal LADY DOMINICA JSZ is poised to leave an indelible mark on the Arabian breed worldwide. Her namesake initials of JSZ reveal her South American origins, denoting her Chilean breeder Jorge Selume of Haras Santa Marta in Brazil, the country in which LADY DOMINICA has already begun her inevitably world-renowned ascent in the spotlight. A dual Gold Champion as a yearling at Brazil's two most important and prestigious events – the National Championships and the all-important Breeders Cup, the latter at which she received the highest score ever awarded in the 24-year history of the event – LADY DOMINICA has raised the bar of excellence for Arabian fillies worldwide in the process. Her inspiring beauty and exotic type are no doubt the influence of the double-VERSACE heritage present in her sire, U.S.-bred DOMINIC M, through his two most famous sons: DA VINCI FM and the inimitable DA VALENTINO. Her extravagant front, impressively long elegant neck, harmonious silhouette and well-coupled level topline are reminiscent of the two indomitable show horses in her star-studded pedigree: MARWAN AL SHAQAB and DA VALENTINO. LADY DOMINICA's MARWAN influence is through none other than two-time U.S. National Champion OFW MAGIC WAN, in combination with leading international Aristocrat HB BESSOLEA. The MARWAN-BESSOLEA cross is responsible for more global championship accolades than any other in the modern era – expect LADY DOMINICA to further expound upon these industry defining achievements with her own special brand of dazzling dominance.

Bred by: Haras Santa Marta
Consigned by: Haras Santa Marta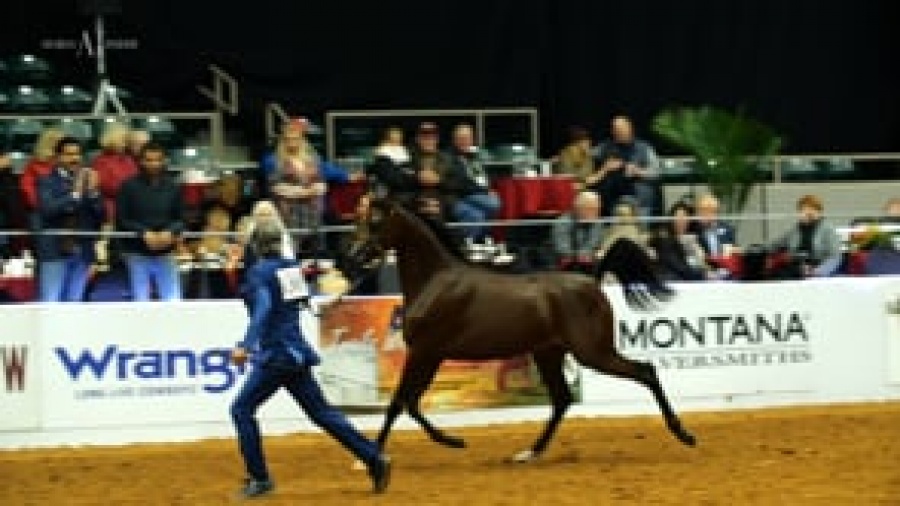 2021 UNBORN FOAL
(Marwan Al Shaqab x Jwaaher Al Shahania)
Full sibling to 2019 Gold World Champion Rhan Al Shahania
In 2019, the world stage was illuminated by RHAN AL SHAHANIA, an indomitable force in yearling colt competition at the most prestigious global events. Named Arabian Breeders World Cup Gold Supreme Champion, unanimous U.S. National Champion, and World Gold Champion at the Salon du Cheval with a score just shy of 93 points, RHAN made breed history as the only colt ever to win top honors in Triple Crown competition on two continents in the same season. The opportunity to reap the rewards of the proven cross that created the excellence of RHAN is now available to the discerning connoisseur, with the unborn foal out of JWAAHER AL SHAHANIA with MARWAN AL SHAQAB. A gorgeous daughter of FA EL RASHEEM, the newly crowned Leading Sire at the World Arabian Championships, JWAAHER will undoubtedly contribute the exotic type, aristocratic quality and ultra-refined elegance for which the EL RASHEEM get are prized the world over. A young matron of just six years of age, JWAAHER is proving that the get of RASHEEM are so much more than just show ring superstars, extending the EL RASHEEM excellence to the next generation with unprecedented results. By breeding JWAAHER to MARWAN AL SHAQAB, the influence of the global 'Paragon' is intensified, as MARWAN is a significant source of brilliance in the pedigree of the late great FA EL SHAWAN, sire of FA EL RASHEEM. Add to this the influence of VERSACE, ALI JAMAAL and EL SHAKLAN, as well as legendary matrons KAJORA, PRECIOUS AS GOLD and ELKANA, and the inevitability of fame and fortune awaiting this unborn foal is undeniably assured
Consigned by: Evening Star Arabians LLC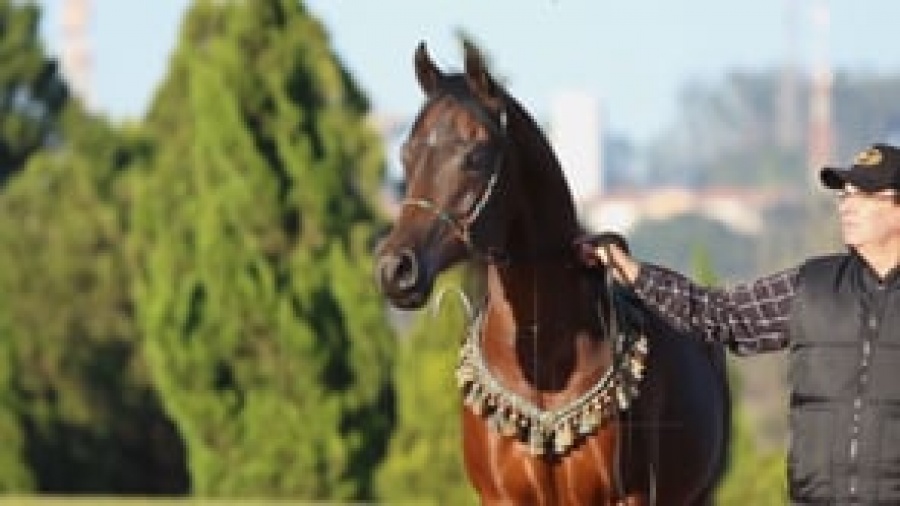 2020 DREAM EMBRYOS
HB Bessolea & RD Fabreanna
An extraordinary opportunity of infinite possibilities awaits… Double your surefire success with an embryo each from two of the most accomplished and universally admired matrons in the breed, the jewels in the crown of Haras Vila dos Pinheiros: HB BESSOLEA and RD FABREANNA.
HB BESSOLEA
No other matron in the new millennium has exemplified consistency and world-class quality in the Arabian breed like HB BESSOLEA, an international Aristocrat of astonishing achievement, especially reflected in her perfect production record with 'the Paragon' MARWAN AL SHAQAB. The produce of HB BESSOLEA have conquered the championship lineups at nearly every major show of merit in North and South America, as well as in Europe and the Middle East, dominating the winners' circle at the U.S. National Championships, the Brazilian National Championships and Scottsdale, as well as the medals in Las Vegas, Dubai, Menton, Doha, Aachen and Paris, with iconic performances from BAANDEROS, BESSOLINA EL MARWAN, DIRAR AL SHAQAB, BINT BESSOLEA, BAAHIR EL MARWAN, and the reigning World Gold Champion BAVIERA HVP. The premier daughter of superior broodmare sire BESSON CAROL, from whom she inherits an exceptional build and balance, as well as her enchanting feminine allure, HB BESSOLEA is moreover blessed with charismatic show attitude and scope of her maternal grandsire ENCHANTER MAGIC FHP, enhanced further by the natural athleticism of maternal granddam JA HIGH SOCIETY, a delightful daughter of the iconic BARBARY. Add to this the venerable cross of TORNADO with SILVER DRIFT to her tail-female ancestry, and it is no wonder HB BESSOLEA reigns supreme as the ultimate Arabian Aristocrat.
RD FABREANNA
United States National Champion RD FABREANNA must rightly be considered the quintessential matron in the Arabian breed, as her production record with a broad cross-section of stallions throughout the last decade remains unrivalled, resulting in an astounding nine international champions and counting. Among the brightest stars in the RD FABREANNA constellation of excellence are: Brazilian National Champion and U.S. Reserve National Champion LLC FASARIO (by Aria Impresario), five-time National Champion LLC FABRIZIO (by Baahir El Marwan), multi-National halter and performance Champion FABIAN TRF+++/ (by Eden C), U.S. & Canadian National Top Ten and Scottsdale Reserve Champion RD AMBIANNA (by Bey Ambition), Scottsdale Signature Champion and Australian National Reserve Champion LLC BRIANA (by Pyro Thyme SA), twice Brazilian National Bronze Champion JOSEPHINE HVP (by EKS Alihandro), and the breathtakingly beautiful DONNA MOLTA BELLA SRA (by DA Valentino), an international icon with an astounding show record as Arabian Breeders World Cup, Dubai International, Abu Dhabi, PSAIAHF & Sharjah Gold Champion, as well as twice U.S. National Champion and twice World Gold Champion. The profound impact of FABREANNA throughout the global community continues to expand in subsequent generations, with several of her best sons and daughters, namely LLC FASARIO, RD AMBIANNA, LLC BRIANA and DONNA MOLTA BELLA SRA, having already blessed the breed with numerous international champions and consequential breeding horses. Pick your sire of choice and let RD FABREANNA do the rest…
Bred by: Haras Vila dos Pinheiros
Consigned by: IntArah Auction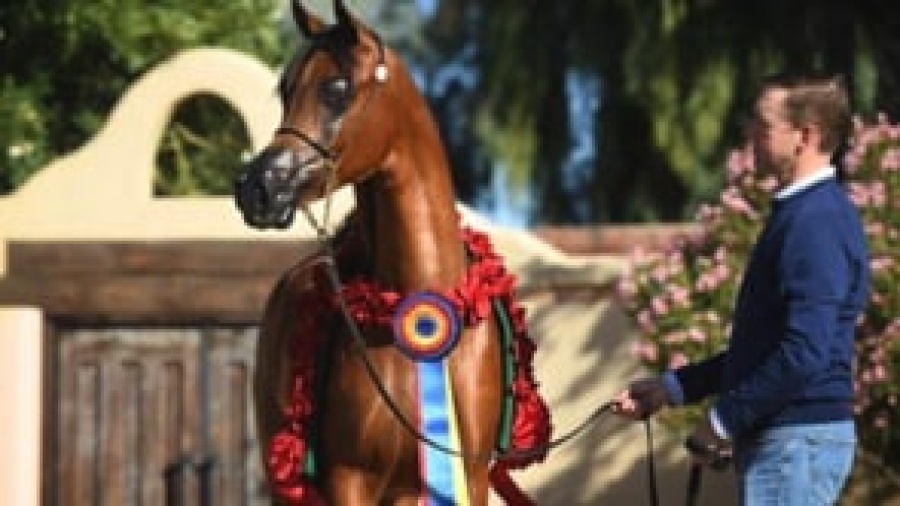 CHARITY LOT