VESUVIO TROPHY 2021
Ottaviano (Naples)
Italy
Horses, Friends, Sea, Food...and a great amount of Fun! What's better than spending a sunny weekend in the beautiful South of Italy?!

- Straight Egyptian Event
- C-National Show
June 12 - 13. Episodes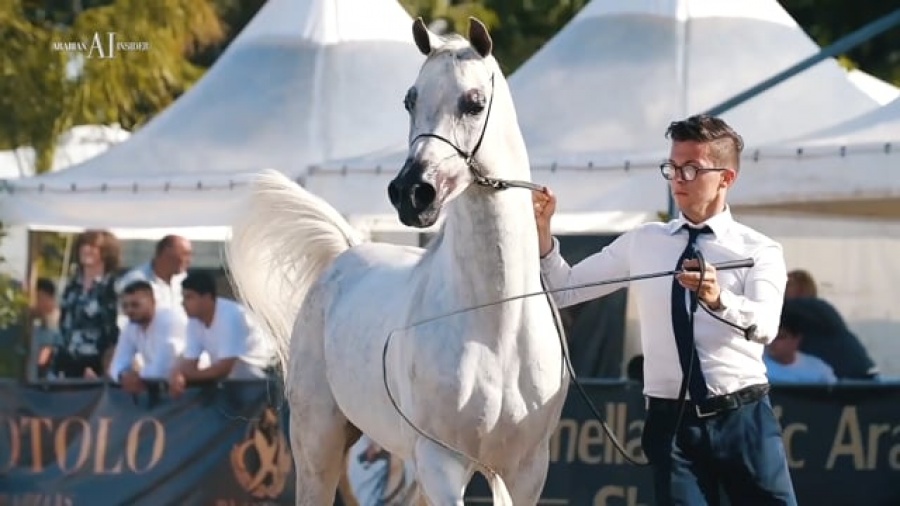 PROMO
The Vesuvio Trophy is ready for its 2nd edition! Come enjoy the best atmosphere you can find around. A FULL LOOK AT THE SHOW
After a one-year break due to the pandemic, this year the event took place again in Ottaviano with a surprising new and commendable look. A two-day event including international guests and panel of judges, two shows (C- Show and Egyptian Event), fine horses, sunny weather, friendly atmosphere...and a crazy amount of typical Italian food! The Vesuvio Trophy is definitely bound to improve year by year and achieve international attendance and recognition.
Congratulations to Donato Prisco on the great organization of the show and to all involved.
Results
YEARLING FILLIES CHAMPIONSHIP
Gold
SORAYA DEL FALCO (Valentina Piccioli)
Silver
MAGIC SWEET CAROLINE (Fontanella Magic Arabians)
Bronze
EXTASY (Antonio Cannata)
YEARLING COLTS CHAMPIONSHIP
Gold
MAGIC MILORD (Franco Storti)
Silver
PIERCING PPJ (Angelo Ruotolo)
Bronze
AMIR BY EMMA (Aniello Di Lorenzo)
JUNIOR FILLIES CHAMPIONSHIP
Gold
KHALEESI (Margherita Cracchiolo)
Silver
JEBOR AL SHAQAB (Antonio De Vitto)
Bronze
ST ALYSSA (Pietro Simonetti)
JUNIOR COLTS CHAMPIONSHIP
Gold
AJ NJWAN (Fontanella Magic Arabians)
Silver
NOBODY (Matteo Marconi)
Bronze
PABLO BY GIADA (Gianluca Iervolino)
SENIOR MARES CHAMPIONSHIP
Gold
GRETA MAA (Giuseppe Sarnino)
Silver
ALTIMARA K.A. (Gianluca Martino)
Bronze
AL JUNAH (El Khatib Stud)
SENIOR STALLIONS CHAMPIONSHIP
Gold
BAYF BY BAYDAH (Margherita Cracchiolo)
Silver
ENGULO EEA (Fontanella Magic Arabians)
Bronze
STY ESSTIMATE (Roberto Zaniboni)
Tributes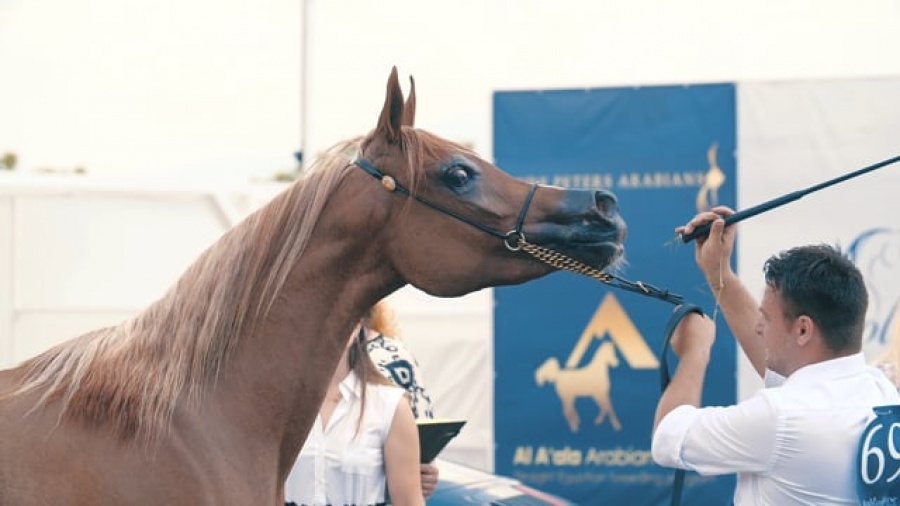 KALUA - Straight Egyptian Gold Champion Filly
Kalua, a lovely filly by the SE World Champion Naseem Al Rashediah out of the Ansata Shaamis daughter FA Kamaria that brought home the Gold Medal at the Straight Egyptian Event on the occasion of the Vesuvio Trophy 2021.
Big congratulations to Agostino Iovino, Antonio Fusco for the presentation and all involved! GRETA MAA - Gold Champion Senior Mare
One of the most emotional moments of the show: the beautiful Type and Head and Neck of this wonderful young mare by Monntrachet (by Marwan Al Shaqab) out of Farah by Shalom lit up the arena in Ottaviano. A pleasure for the eyes as Greta MAA conquered the Gold Champion Medal at the Vesuvio Trophy 2021 for proud owner Giuseppe Sarnino. A special team behind this success including Greta's manager Franco Aprile and her class and championship handlers Giuseppe Baragiani and Diego Zoppellaro as well as Giuseppe Vetrò. NASHME AL ZOBAIR - SE Gold Champion Stallion
Al Hindal Stud conquers the main class at the Egyptian Event with Toader Iacoban on the lead of this son of Al Saaedi out of Hasina Al Zobair. Congratulations to all involved!