MENTON - MEDITERRANEAN & ARAB COUNTRIES ARABIAN HORSE CHAMPIONSHIP 2019
Promenade du Soleil 
Stade Rondelli
Avenue Porte de France 
06500, Menton, France
| | |
| --- | --- |
| Organizer | Mrs. Christianne Chazel (A.P.C.A. - Christianne & Jean-Pierre Chazel) |
Arguably the most glamorous Arabian horse show on the circuit, Menton is home to the Mediterranean and Arab Countries Arabian Horse Championship. Held on the French Riviera, just a stone's throw from Italy, Menton is the first major show of the European showing season. With the classes starting after lunch, allowing visitors plenty of time to explore this beautiful seaside town as well as enjoying the June sunshine, the Menton Show has much to offer visitors. However, it is not just about glamour – the horses that compete here tend to go on and vie for World Championship honours. It is here where old names make their triumphant return to the ring, while new legends are made. The beach truly is the place to be! Episodes Episode 1
The First Day of the show was all about the Yearling and Junior Fillies & Colts classes. We experienced some very good performances and discovered what emotions some memories of the past years evoke within the people involved. Episode 2
The Championship day started with the Mares and Stallions classes in the morning, and had the 4 Championships in the afternoon, with impressive performances and top-quality standards as well as a beautiful public setting. Enjoy our best highlights of the day!
Results
YEARLING FILLIES CHAMPIONSHIP
Gold
MY VISION AA (Ariela Arabians)
Silver
D SHAMKHAH (Dubai Arabian Stud)
Bronze
ROYAL ASSELAH (Nesma Stud)
YEARLING COLTS CHAMPIONSHIP
Gold
D MEZYAN (Dubai Arabian Stud)
Bronze
DOSAR ALSAYED (AlSayed Stud)
JUNIOR FILLIES CHAMPIONSHIP
JUNIOR COLTS CHAMPIONSHIP
SENIOR MARES CHAMPIONSHIP
Gold
NOFT AL NAYFAT (Naf Stud)
Bronze
MAISA AL NASSER (Al Nasser Stud)
SENIOR STALLIONS CHAMPIONSHIP
Gold
SHANGHAI EA (Ajman Stud)
Silver
EKS MANSOUR (Al Shahania Stud)
Tributes HDM BELLA CIAO - 3rd Place Yearling Fillies Class 1A
Don't miss this beautiful lady alongside Frank Spoenle in the Yearling Fillies class! Proudly owned by Ajman Stud. DOSAR ALSAYED - 2nd Place Yearling Colts Class
In one of the most anticipated shows of the year, Dosar AlSayed got the 2nd place in the Yearling Colts class with Arthur Nascimento. Proudly owned by AlSayed Stud. QUTUZ ALJASSIMYA - 1st Place 2 yo Colts Class
The best way to start one of the most important shows worldwide: Colts 2 years old Class Winner, proudly representing Aljassimya Farm and presented by Giacomo Capacci. FIGARO - 2nd Place 3 yo Colts Class
2nd place in the 3 year-old class in the arena of Menton to represent Aljassimya Farm on the lead of Giacomo Capacci! SAIF ALBIDAYER - 3rd Place 3 yo Colts Class
Don't miss the beautiful SAIF ALBIDAYER 3rd in the 3-year-old class with Raphael Curti. Proudly owned by Albidayer Stud.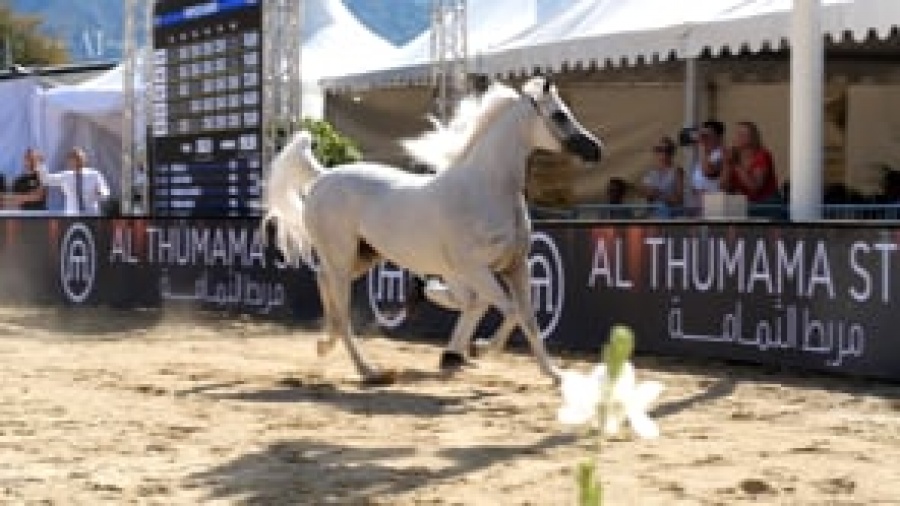 BAVIERA HVP - 1st Place 4-6 yo Mares Class
A stunning performance of Baviera HVP in the Menton arena in the 4-6 year-old class beautifully presented by Paolo Capecci and representing Abhaa Arabians. SHANGHAI EA - 1st Place 10+ yo Stallions Class
Enjoy SHANGHAI EA and his stunning performance in his Senior Stallions class along with Frank Spoenle. Proudly owned by Ajman Stud. MY VISION AA - Gold Champion Yearling Filly
An impressive achievement for this beautiful daughter of the legendary *THE VISION HG that won the Gold Champion Yearling Filly medal in Menton alongside Raphael Curti.
Bred by Ariela Arabians & proudly owned by Albaydaa Stud. ERALDA - Gold Champion Junior Filly
What a success for ERALDA in a very tough Championship with some of the most beautiful Fillies worldwide! She was awarded the SILVER CHAMPION JUNIOR FILLY Title showing everyone her absolute beauty! Congratulations to the owner Al Shiraa Arabians and everyone involved! FIGARO - Silver Champion Junior Colt
After his 2017 World Gold title as a Yearling Colt, he came back to the show ring and won the SILVER CHAMPION JUNIOR COLT Medal alongside Giacomo Capacci in Menton! Proudly owned by Aljassimya Farm. HL EL GANADOR - Gold Champion Junior Colt
The beautiful HL EL GANADOR confirms his success in Menton after the Gold Medal as a Yearling in 2017. He is GOLD CHAMPION JUNIOR COLT as well as Best Head 3 years old Colts, Best Arabian Type in Junior Males section and Best European Horse. Congratulations to Hanaya Stud, Frank Spoenle and everyone involved in this achievement! NOFT AL NAYFAT - Gold Champion Senior Mare
The enchanting NOFT AL NAYFAT collected an incredible amount of awards at the Menton Arabian Horse Show 2019. She was awarded the GOLD MEDAL SENIOR MARE Title as well as the Best in Show Female and Best Head 7 years old and older Mares awards. Congratulations to Naf Stud, the handler Cristian Franceschina and everyone involved! SULTAN AL ZOBARA - Bronze Champion Senior Stallion
The great SULTAN AL ZOBARA won the BRONZE CHAMPION SENIOR STALLION Medal at the Menton Arabian Horse Show! A great title among a very tough competition rocking the arena alongside Paolo Capecci. Proudly owned by Abhaa Arabians. EKS MANSOUR - Silver Champion Senior Stallion
An amazing collection of titles for EKS MANSOUR in Menton. Besides the SILVER CHAMPION SENIOR STALLION Medal, he was awarded the Best Head 4 to 6 years old Stallions, Best Arabian Type in the Senior Males section and Highest Score in the Show. Proudly representing Al Shahania Stud & presented by Giacomo Capacci. SHANGHAI EA - Gold Champion Senior Stallion
Proudly presented by Frank Spoenle, SHANGHAI EA conquered the hearts of everyone attending the event in Menton, showing his incredible attitude and breathtaking beauty. After achieving the first place in his class, he won the Gold Champion Title, making his owner Ajman Stud proud.