DE CARTHEREY ARABIANS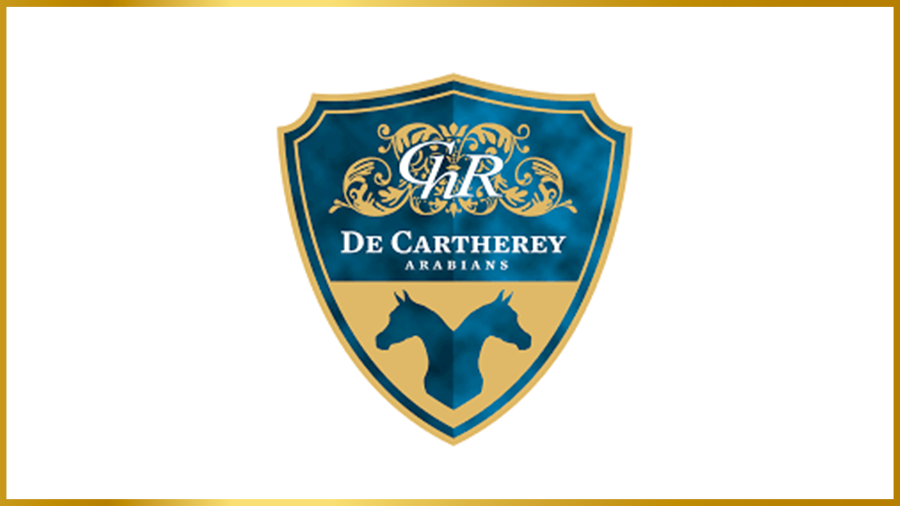 | | |
| --- | --- |
| Owner | Antoine & Chantal Rigat |
| Handler | Obi Training Center |
| Bloodline | Mixed Blood | Services
The source of passion for the Arabian Horse was a "coup de coeur" for Antoine and Chantal Rigat and, as luck would have it, it happened in Paris - the city of love. The Rigats visited the 2007 World Arabian Horse Championship out of curiosity and from the moment they first set eyes on the horses, they weren't able to stop thinking about them, because they are not just beautiful on the outside but on the inside too. Their love for the Arabian horse grew and has not faded since. But they already had a a passion for horses: Antoine used to ride and Chantal is licensed for cross-country, jumping and dressage. Both owned a racehorse too and she was the inspiration for the newly founded Arabian horse stud: De Cartherey. The stud farm is located in Auvergne, a historical regio in central France. Shaped by the Chain des Puys volcanoes, the architecture in its towns and cities glower with volcano stone. De Cartherey Arabians' successful stud started from very small first steps, using only the best bloodlines available. Chantal soon acquired special bloodstock and used the best stallions, like Eternity Ibn Navarroné-D, Marwan Al Shaqab, Ajman Moniscione, WH Justice, Shanghai EA and Emerald J, with fantatsic results. 
Five mares are important to Chantal Rigat. The grey Wadi'ah De Cartherey, out of L'A Stefanja, was chosen to carry the first foal of rising start R'Adjah De Cartherey, the first homebred stallion. Wadi'ah is a valuable daughter of Eternity Ibn Navarroné-D, a glistening white stallion that captivated the audiences of international show rings. Eternity Ibn Navarroné-D is not only a double World Champion Stallion, but made a triumphant and powerful return as a veteran of 18 years to Paris in 2015 where he earned the title of World Platinum Stallion.
Latest news
*MAHASIN DE CARTHEREY*
The pride and joy of De Cartherey Arabians has travelling worldwide and showing everybody his special beauty. Some of the competitions he's participated in included:
SILVER CHAMPION YEARLING COLT at the 2019 AHO European Breeders'World Cup
SILVER CHAMPION YEARLING COLT at the 2019 EUROPEAN CHAMPIONSHIP
TOP 5 at the 2019 PARIS ARABIAN HORSE WORLD CHAMPIONSHIP
2nd in the CLASS at the 2020 AL SHIRA'AA INT. ARABIAN HORSE SHOW
TOP 5 at the 2020 MENTON ARABIAN HORSE SHOW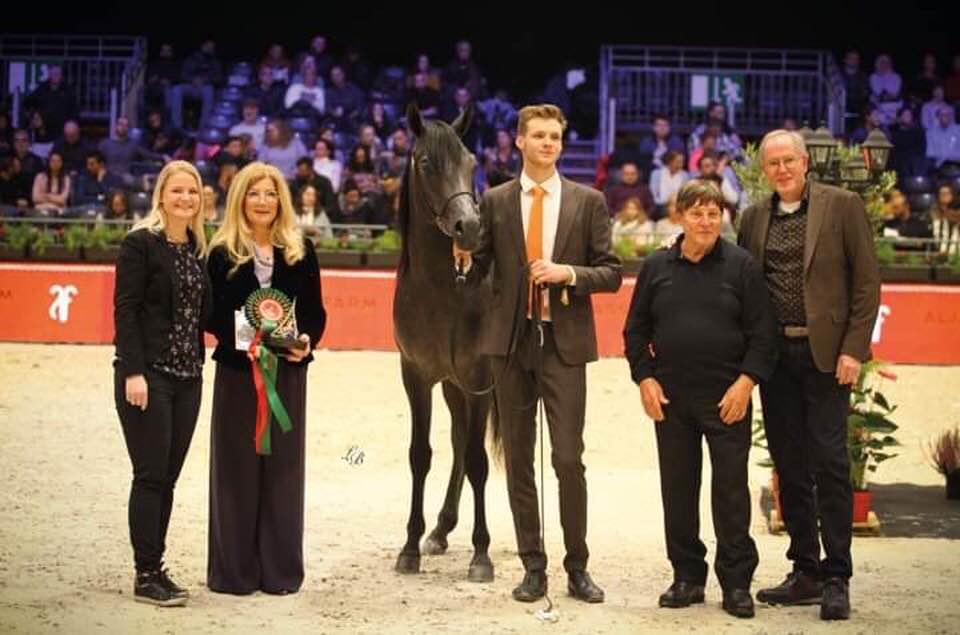 * BRUGES EUROPEAN ARABIAN HORSE C SHOW 2019 *
A great success for De Cartherey Arabians at the Bruges European Arabian Horse C Show 2019: BAD'IAH DE CARTHEREY was awarded the SILVER MEDAL SENIOR MARE! Congratulations to everyone involved!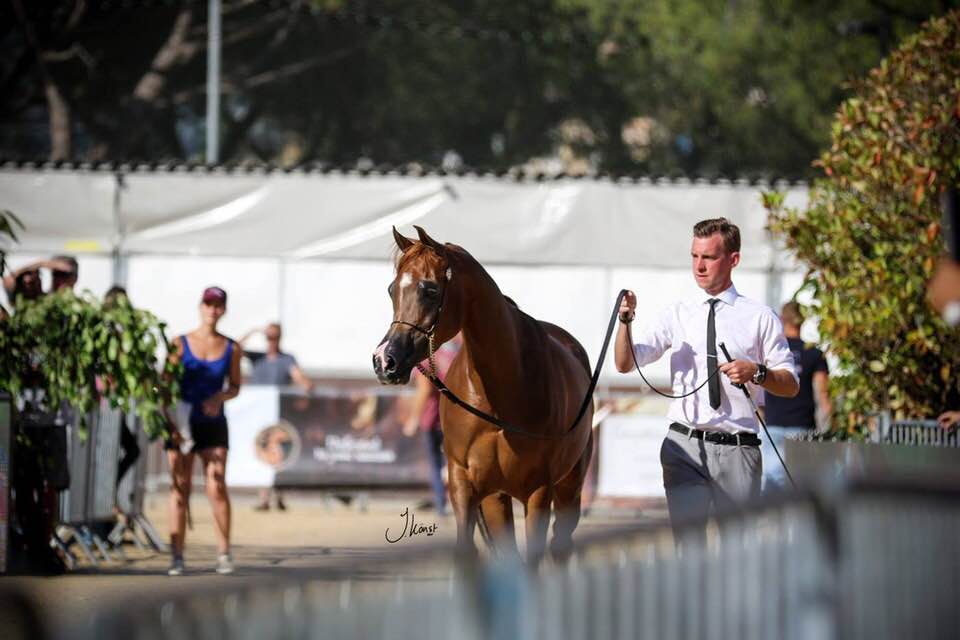 * MAHASIN DE CARTHEREY *
The first baby of R'adjah De Cartherey, MAHASIN DE CARTHEREY kicked-off the 2019 season with an impressive SILVER MEDAL in the Yearling Colts Championship at the Tulip Cup 2019. Congratulations!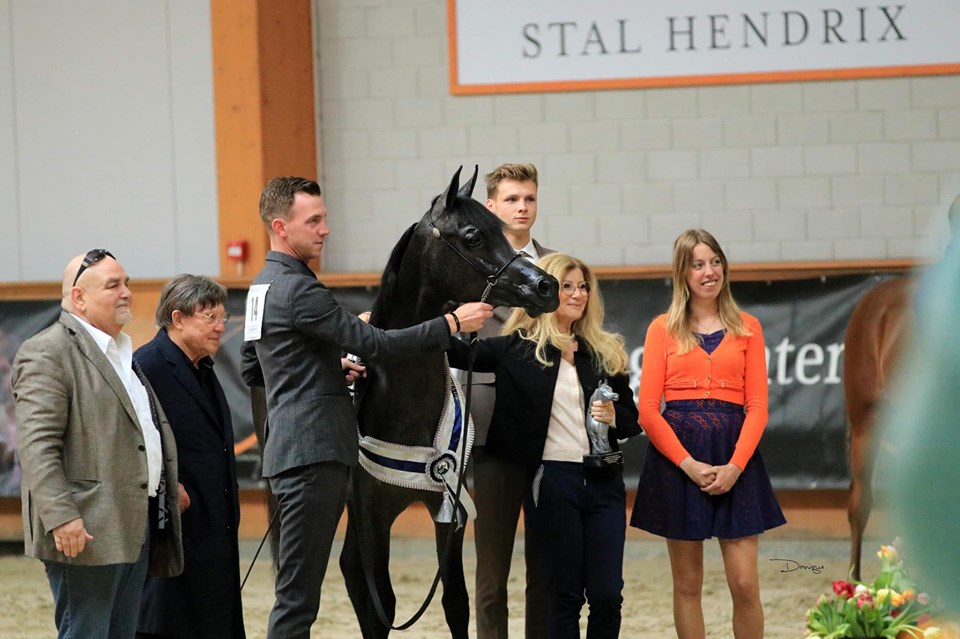 * NEW BIRTHS *
De Cartherey Arabians is happy to announce the birth of:
FADO'RAH DE CARTHEREY: a beautiful filly by R'ADJAH DE CARTHEREY x FADWA AA;

DO'HAA DE CARTHEREY: a little filly by DOMINIC M x BADI'AH DE CARTHEREY.
Best of luck for the future!
* 2019 BREEDING SEASON *
R'ADJAH DE CARTHEREY's Frozen Semen is now available! Contact Obi Training Center to book your breeding!
*FIRST BABY OF R'ADJAH DE CARTHEREY*
✨MAHASIN DE CARTHEREY ✨
(R'adjah de Cartherey x Wadi'ah de Cartherey, by Eternity Ibn Navarrone)
This first baby of R'adjah de Cartherey competed at his first show and he seems to be very promising: he was awarded the GOLD MEDAL FOAL MALE at the Vichy International Arabian Horse Show B 2018! Let's see what the future holds for him!
R'ADJAH DE CARTHEREY as SIRE
The Multiple Champion R'ADJAH DE CARTHEREY devoted himself to the reproduction: his first products were born in 2018 and others are expected for 2019.
He took advantage of this year far from the show rings to start a career where he can express his fantastic, light and powerful movements. He made his first Ridden Class competition at the Nations Cup ridden by Edfje Appelmans.
*NEW ENTRY*
Congratulations to De Cartherey Arabians on leasing FADWA AA, from Ariela Arabians. This three-year-old grey filly is by thr World Champion Stallion Fadi Al Shaqab and out of Donya Jamal, a daughter of the great sire Nader Al Jamal, out of Aroussa by Al Maraam.
Fadwa will be shown this year by Mr. Tom Oben, who made this collaboration come together. Good luck!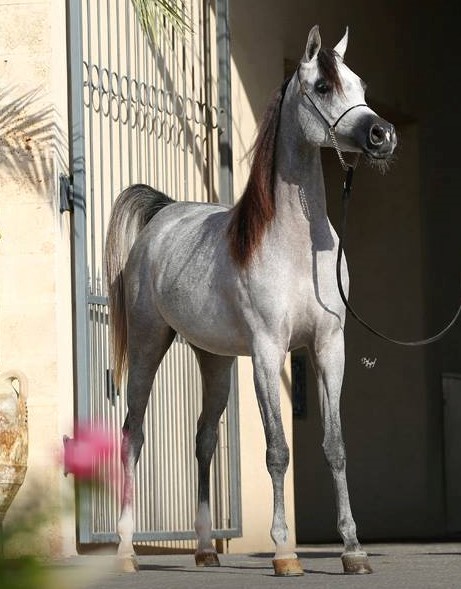 Results
SILVER CHAMPION YEARLING COLT
MAHASIN DE CARTHEREY - 2019 European Championship
Silver Champion Senior Mare
BADI'AH DE CARTHEREY - 2019 Bruges European Arabian Horse C Show
SILVER CHAMPION YEARLING COLT
MAHASIN DE CARTHEREY - 2019 AHO Breeders' European Cup
Silver Champion Yearling Colt
MAHASIN DE CARTHEREY - 2019 Tulip Cup
Gold Champion Foal Colt
MAHASIN DE CARTHEREY - 2018 Vichy International Arabian Horse B-Show
Bronze Champion Junior Colt
R'ADJAH DE CARTHEREY - 2017 Elran Cup
Silver Champion Junior Colt
R'ADJAH DE CARTHEREY - 2017 Chantilly AHO Breeders' Championship 
Silver Champion Junior Colt
R'ADJAH DE CARTHEREY - 2017 St. Oedenrode Arabian Horse Weekend
Gold Champion Junior Colt
R'ADJAH DE CARTHEREY - 2016 Tulip Cup
Silver Champion Junior Colt
R'ADJAH DE CARTHEREY - 2016 Chantilly AHO Breeders' Championship 
Gold Champion Junior Colt
R'ADJAH DE CARTHEREY - 2016 Deauville Arabian Cup